Zombie Outdoor Survival Knives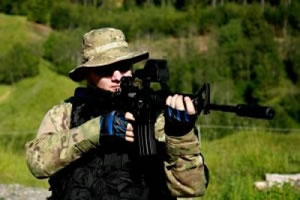 Hunting Knife Overview – Selecting The Right Model
Almost every zombie fighter and provisions hunter team member needs a knife to handle tasks while out in the woods. These tasks include everything from knives used for cutting twine, field dressing and even cutting down small trees.
But how do you choose the right knife? First, let's define some major types of knives.
Folding and Lockback – These are knives that fold into a compact size when not in use. These are specifically designed to be compact and portable.
Fixed Blade – These are knives that are made to be rigid with no moving parts (in most cases). These are typically used for more demanding tasks. They are larger and less compact usually requiring a sheath for your protection and carrying when not in use.
Saw Blade – These are general purpose utility knives used for cutting down small trees and brush. You might use one of these to clear a camping site.
Depending on the intended use, select the correct type of knife. For instance, if you need a knife for field dressing deer you would likely select a fixed blade knife with the length of blade you think is necessary. There are also folding knives that can be used for this purpose. It comes down to size, sharpness and rigidity in this case.
Also, be aware of the type of grip on any knife you are considering. Fixed blade knives typically come with a grip that is designed for strong gripping pressure. Folding knives come in many variations and incorporate a grip type handle into the folding mechanism.
Steel Hunting Blades And Other Options Available To Hunters
Hunting knives, tactical knives and pocket knives are the type of tools that every hunter needs at some point or another. When it comes time to prepare your game for transport off the mountain or to take care of some camping basics like cutting or chopping, it is important to have a sturdy, reliable hunting knife that you can count on to last for several hunting seasons. If the tactical knife or pocket knife is perpetually dull or flimsy it is very unlikely that you will enjoy your time hunting and may in fact result in a lack-luster hunting season. That is why it is important to make sure to always have the right blade on you at all times, and to choose the right blade. Many people do not know that there is more than one blade type, when really there are three main blades that a person can choose from, depending on their individual needs.
Drop Point Blade Hunting Knives
The drop point blade is the most popular type of tactical knife blade on the market today. The drop point has a sharp curve to the blade and it is forged of a thick, durable steel blade that can stand up to just about anything. The edge of the drop point blade makes it one of the most utilitarian of the three knives mentioned here. It can be used to jab or point as well as slice, and it is very useful for efficiently skinning game after it has been killed.
Clip Point Blade Hunting Knives
The clip point blade is another one of the more popular types of hunting knives out there. Although the clip point is not nearly as popular as the drop point blade, the clip point blade is made of thinner steel and the blade is flat, with a point to it. The clip point blade is perfect for skinning game as well, but the clip point blade is also perfect for other uses that are not related to hunting, like cutting ropes or branches or other things of that nature. The clip point blade is a useful knives for hunters to have, and is one of the most commonly used and carried types of hunting blades out there.
The Skinning Knife
Skinning knives are other popular hunting knives, although they are not nearly as multipurpose as some of the other tactical knives on the market. Skinning knives are just for that, removing the skin of a game animal from the meat. Skinning takes a certain type of blade in order for the meat to be as well preserved as possible. If you find that you lose a lot of your game during the skinning process, you may want to consider purchasing a skinning knife in addition to a more tactical blade.
Having reliable hunting knives is an important element of successful hunting, whether you are a big game hunter, waterfowl hunter or fisherman. By knowing the various blade types available you can determine which best fits your needs and your use level. Remember that there is more to a knife than the style of its handle or its price. The craftsmanship and style of the blade are the fundamental elements that will make the hunting knife a valuable addition to your hunting equipment.
Puma Knives: Why A Bowie Blade Takes The Cake
A Bowie knife today refers to almost any large, wide-bladed knife with a curved and sharpened tip. The fancy presentation blades often carry some reference to Jim Bowie who was famous as the designer of the original knife. Not only are such knives decorative in nature and appearance today, but they are an efficient and comprehensive tool for the outdoorsman, hiker, camper or anyone who hunts recreationally or for food.
A number of features help to make this knife style perhaps the most famous of any type of knife in the history of the United States, at least. The first element is the size of the knife. It typically has a blade that is at least six inches in length and may extend to a foot or more in length. In fact, at this size, it resembled a short sword more than a knife. The length of the knife is matched by the width of the blade – usually from one and a half inches to two inches in width. The wide blade makes it usable as a small hatchet or machete for the hunter who needs to chop some wood to get a fire going or to clear a spot for a tent or other shelter for the night.
For those who hunt, a Bowie knife's curved tip is ideal for the more delicate work of skinning out the animal while the guard protects the hands. Anglers use the curved tip for cleaning fish and preparing the fillets for a quick dinner over a campfire. Hiker's and backpackers appreciate the fact that the Bowie knife is multidimensional in its uses so that additional tools are unnecessary, thus reducing the weight of the backpack or hiking pack. At the same time, the fact that the knife is not double-sided provides for more safety in carrying and using the knife.
Another positive feature of today's Bowie knives, just as in the originals made during the 1800s is the quality of the steel used in the blade. These knives typically use a high carbon steel that provides both the ability to not require repeated sharpening in order to maintain the cutting edge and the flexibility to not snap with the stress of everyday use.
While the qualities of the steel are critical in the reputation of the Bowie knives throughout their history, this is one area where modern science has not yet caught up with the secrets of the original makers. Black, the blacksmith who is credited with producing the original knife carried by Bowie and made famous during his lifetime, died before sharing his secrets for the blade strength, and his process has not been duplicated even with modern means.
Today's Bowie knives tend to have more elaborate handles and decorative touches, but the balance and clean lines have not changed much since the originals. High carbon stainless steel blades are joined with composition handles, or sometimes bone, wood or metal handles in order to create a beautiful and utilitarian product. Handles are even embellished with brass, silver or gold decorative elements.
There are several companies out there who produce both inexpensive and high-end bowie knives for collectors and users alike. Bowie is a name outdoorsmen can count on for quality and usefulness no matter what the need.
Hunting Knives: The Benefits Of A Liner Lock Folding Knife
When knives first began to appear as pocket knives, they were developed so that they could virtually fold in half and be able to ride in a secure, hidden location. When the knives were opened, it was usually done with a thumb or another finger, which meant that a person would have to use two hands in order to open up his knife. This is something that worked for many people, but could also be dangerous in the long run.
This is part of why liner lock knives were developed. With the liner lock knife, it is possible to open and close the blade with only one hand in a safe manner. The knife was designed by Michael Walker who took what was at one time called the electrician's knife, and made some adjustments to it. The electrician's knife was a knife that had a button which you could press to open and close it. However, it did not lock. Knife maker Walker changed the older style so that it would lock, which meant a safer sturdier blade.
The liner lock knife that can be found in hunting and fishing equipment stores today are commonly referred to as folding knives. When the knife is unfolded, it is held open by a leaf spring or lockbar system. The lockbar presses against the bottom of the blade and does not allow it to close until the lockbar is pressed. Then, it closes by itself. It will stay closed until the lockbar is pressed one more time.
The liner lock knife is useful because it allows you to safely keep your knife closed when you do not want to be using it. It locks the blade closed so that it will not come open by accident. This mechanism creates a way to keep a knife in the house or in a tackle box without worrying about the safety of other people that may be digging in drawers or boxes to retrieve it. The liner lock knife also works to lock the knife open, so that you will not have to worry about the knife falling shut accidentally on unsuspecting fingers or constantly collapsing while you are trying to complete a task. The lockbar on the liner lock knife works in both ways.
The liner lock knife also allows you to open and close the blade with one hand. This makes the entire knife much easier and convenient to use. These blades are also made of strong materials, typically steel or titanium, to better withstand rigorous use and the constant movement of the internal mechanism. These materials can also withstand rust and tend to maintain their sharpness better than other metals. With this type of construction, it is reassuring to users that the knife will last.
Whether for outdoor use or for your home, having a solid folding knife at your disposal is important. If you do not have one, consider a liner lock knife for its safety, ease-of-use and durability.
Related Articles