Zombie Wilderness First Aid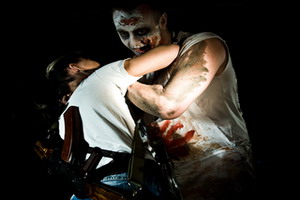 It's every zombie hunter's worst nightmare: one moment you're engaged a long patrol sweep or a lengthy zombie hunting trip, and the next the unthinkable happens and you or your companion is dealing with a serious injury. However, preparation is one of the best wilderness first aid skills you can have. Here are a few things to consider when stocking your first aid kit.
Whether you're just heading into the woods for a day or several weeks, it's good to have the essentials on hand. These include bandages, disinfectant, rash cream, sun lotion, bug spray, and more. Other supplies may vary depending on your excursion. For example, if you're going fishing, having something to help you remove hooks and treat the wound can do wonders for preventing infection. These basic packs are typically very small and easy to pack in a backpack or duffel bag. Free Report Basic Medical Supplies
It is always a good idea to carry a small pocket kit as well as a more professional kit in your backpack or duffel bag in case zombies, bears or rouge humans force you to abandon your camp and supplies. The theory is for your supplies to be decimated evenly in an emergency event, not have whole categories eliminated.
Larger wilderness first aid kits are a bit bulkier, but nevertheless easy to include in your supplies. These first aid kits may include wound irrigation systems, antibiotics, wet wipes, different rash creams, vitamins, stitching kits, gauze, splints, and more. If you have medical needs that require the use of daily pills, injections, or inhalers, it's a good idea to include several extra doses of your medication in the event that you run out or lose your current doses.
Of course, one of the most important aspects of wilderness first aid consists of learning how to use your equipment. This is why many first aid kits are equipped with a series of directions that teach you how to reduce swelling, stop bleeding, and other time sensitive treatments in a pinch. Most of your equipment will also come with instructions regarding correct dosages and signs of overdose. If you have any questions regarding how to use more complicated equipment, consult your doctor before the dead walk.
In the event that you should become lost in the forest, it's also a good idea to include a few terrain related supplies in your kit. These include compasses, flashlight, emergency flares and secondary weapons. If possible, a GPS integrated devices will also work wonders for alerting any remaining authorities should an emergency occur.
These are only a few things to consider when picking out your wilderness first aid kits. While there are many kits available online that advertise having everything you need to stay safe in the forest, it's nevertheless a good idea to customize your kits according to your individual needs and conditions. Again, your doctor can provide you with excellent suggestions regarding what to include.
This link will download a free copy of EWS.ZIP a large collection of army emergency medical treatments in independent pdf files within the zip. Right click save Target to a directory on your hard drive and unzip the archive to same.
Keep in mind none of the above will be effective when bitten. Nothing is known to halt the infection beyond tourniquet and rapid removal of the limb. Even so disinfectant may change a quick turn into a slow burn providing time for revenge.
Related Articles