Zombie Survival Skills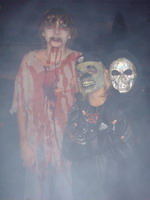 See the kids in the picture wearing zombie costumes? Do NOT shoot them as they are not actual zombiez!
If you want to survive the zombie plague it is best to do so from outside a jail cell.
Do you wish you knew more about how to interact in the wild? Contrary to popular belief, learning any survival skill isn't as difficult as it seems if you study on them one at a time.  It's a simple matter of staying prepared and being ready with what you learned for anything from breaking a leg in a rabbit hole to bear, skunk or zombie attack. Fortunately, there are many ways you can do just that. Here are a few things to consider when preparing for your next outdoor excursion into or out of the city of the dead.
One of the first things many beginners imagine when they imagine emergencies in the wild is what they would do if they got hurt. Whether you're going on a short fishing trip or a lengthy camping vacation, there is absolutely no excuse not to have a quality first aid kit with you. These are useful for treating everything from minor sunburns and rashes to broken bones and serious gashes. Their contents vary depending on their size, of course, and you may need to invest in specific kits if you're going on a specific expedition. For example, many first aid kits come with devices for removing fish hooks or treating bullet wounds, making them useful for hunting or fishing trips.
Clearly nothing is going to help for a bite, however quick action may change a quick turn into a slow burn allowing for that chainsaw attack you've been wanting to try.
Finding food is another important survival skill. Fortunately, there are plenty of ways you can keep from going hungry. One way is to simply pack a few snacks that are nourishing and are naturally long lasting. These include beef jerky, granola, nuts, trail mix, and fruit strips. However, if you plan on spending more than a few days in the woods, it's a good idea to pack something a bit more substantial. Such supplies include canned food, dehydrated meals, freeze dried snacks, or vacuum sealed meals. Fortunately, these survival foods are lightweight and easy to pack.  The only problem is finding clean water besides what you choose to carry yourself. Try to locate sources free from contamination and use those disinfection tablets. Imagine how you might feel traveling upstream and finding a zombie in the water.
Here is a helpful trick for when you need to heat or boil water and don't have a suitable container to set on the fire. Boiling With Hot Stones in the pdf is a pic of a coal burnt container, this is done by using hot coals to burn and harden a basin depression into a dried chunk of toxin free wood that once scraped clean can be used to put liquid and hot stones into for survival cooking.
Foraging is a useful survival skill to have regardless of what you bring with you. After all, having a nice hand gathered salad or some fresh berries and mushrooms to supplement your food supply is always a treat. However, if you're inexperienced it's best to keep a field guide with you. This will prevent you from accidentally eating something poisonous leaving you weak and open to zombie attack. In addition to this, it should help you learn how to prepare various foraged foods as well.
For those planning to live off the land by provision hunting, here is a free guide on game meat. Big Game from Hunt to Home
If you're traveling by car, one of the most common survival skills is learning what to do in the event that your car breaks down in a remote location. You can improve your situation significantly by not driving a piece of junk (think not breaking down in zombie town) and having an essential kit of car supplies. This includes an air pump, a tire jack, a good spare tire, gas can, a large jug of potable water for the radiator, and other essentials.  In more civilized areas also be sure to keep your insurance papers and the phone number of your car insurance company just in case. If possible, keep a pay per use cell phone with you as well just for emergencies.
Finally, having a navigational survival skill or two can't hurt. These include learning how to mark trails, identify landmarks, read maps, and use compasses. If you plan on venturing deep into the wilderness or a city of the dead, it will behoove you to carry a GPS device with you for so long as the system remains up and working. Many such devices come with an emergency beacon that can be quite useful should you become lost.
Before you exit humanity consider learning more about how learning a new survival skill a day can benefit you!
Related Articles